about TenTenYuu
Our noodles are not handmade, but they are made in shop with a noodle-making machine. To make noodles which go well with our bone broth, we slightly crinkle our medium width noodles. We also use salt water from Mongolia for our noodles to get our own characteristic firmness and flavor. We are always looking for better ways and better flour to make noodles which go well with our broth.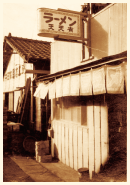 1961 (June, Showa 36) opening that time
We boiled the heads of black pigs raised in Kagoshima and remove their blood and dirt. After careful preparation, we stew the pork bones well for about 24 hours. To complete our ramen soup, we add our original tare which is made of shiitake mushrooms, seaweed, dried mackerel flakes, peanuts and garlic. We then combine that tare with charsiu sauce (soy sauce flavor) to a sweet and rich pork bone broth.
1966 (May, Showa 41) Transfer that time
"Our only principle is making good ramen."
Our principle is to make ramen our customers will truly enjoy, not to keep the same taste we have always had. That's why we always try many different things to make TenTenYuu ramen better every day.
We started to use homemade noodles, because we wanted to serve our customers noodles without additives. We want to make something that makes our customers say, "Even if we are having a fight, once we eat delicious food, we will relax and forget we were even arguing."
What is "delicious" ?
We don't know yet, but we'll keep pursuing it. Our ideas haven't changed, but our ramen always will.